This Week's Story is prompted by a vintage piece of lingerie. You can listen to the audio podcast here.
This particular lingerie piece, in a powder blue satin, is more slinky sleepshirt than naughty negligee. With its built-in shoulder pads and double-breasted suit jacket front, this nightie looks more like an oversized power suit jacket than something you'd find in the ladies' intimates department. It's oh-so 80s.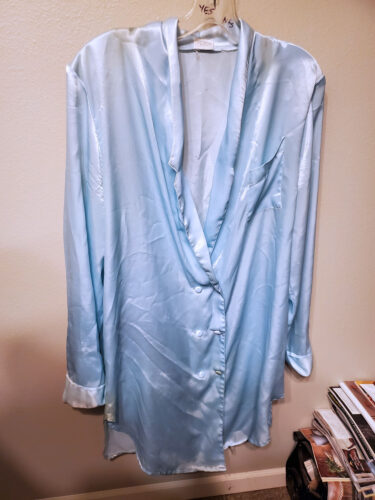 But the garment's roots are in the 1940s. Designer Elsa Schiaparelli may have lit the shoulder pad fuse in 1931, but it wasn't until World War II began that the big bang of shoulder pads in women's fashions really exploded.
Women's fashions became steadily militarized, heavy in masculine styles with shoulder pads becoming increasingly bulkier and positioned at the top of the shoulder to create a solid, strong look.
Soon the style was ubiquitous in female fashions, found in all garments except for lingerie.
So leave it to the 1980s, decade of excess, to put shoulder pads in the lingerie.
Fashions of the 80s rigorously borrowed from many previous decades – exaggerating things as it went.
From the 40s – big shoulders and double-breasted suits.
From the 1950s, the 80s took rolled jeans and rocker leather. Those soft 50s pastel angora sweaters were back – now paired primarily with black for higher contrast. And the classic 1950s ponytail become the exaggerated side ponytail.
From 1960s fashions, the 80s took mini-skirts, bold colors, and mod geometric patterns.
Of course, there was a great backlash to all this big, bold, exaggerated 80s fashion too.
Brands such as Laura Ashley & Jessica McClintock's Gunne Sax surged forward with their fond looks backward towards a softer, feminine, romance associated with prairie and Victorian-styled designs. A time when women were women and men were men. (Of course, leaving out the facts that back in those good old days manly men and womanly women had to use outhouses and chamber pots, as we often do when romancing the past.)
This gender power struggle dynamic displayed in culture as fashion can be seen clearly in the 1980s television show Dynasty. The show's costume designer, Nolan Miller, dressed his stars, Linda Evans and Joan Collins, in more than just the glamorous gowns of the wealthy. Their wardrobes were built on establishing and displaying the female leads' authority and power. Big shoulder pads were needed for such big ambitions!
But even as those huge-shouldered power suits represented the power in the new working woman, it was also necessary to show that underneath her "bitch in the boardroom" persona, she was "all woman" underneath. Enter lingerie.
All things silky and lacy were paramount to a woman's 80s wardrobe. Whether it was underwear as outerwear, a la Madonna, or it was a silky soft teddy beneath that tough power suit, lingerie was an 80s necessity. In the case of this vintage 80s piece, one would balance the "I mean business!" double-breasted, shoulder-padded night-suit by wearing the "Monkey business, baby!" of an all lace bodysuit (typically with stockings) beneath it.
This is the intimates fashion equivalent of Enjolie's "I can bring home the bacon, fry it up in a pan. And never, ever let you forget you're a man."
Like I said, classic 80s.
Item details: Available in booth #27 at The FARM. Ladie's size Medium. Cloth label: Charmeuse, 100% polyester. Machine wash; tumble dry low. Price: $26.95