Part of my job as an antiques dealer (or vintage seller, if you prefer) is to properly clean, research, and identify reclaimed and discovered items in order to best present these old things to potential buyers. Continually making discoveries, uncovering new-to-me stories is one of my favorite parts of this gig.
But sometimes, as I've recently noted on Twitter, I go down rabbit holes and end up writing tomes when I list the item. It may not always translate into the best bang for my buck – especially when I fall in love with something which should just be inventory…
Meet my latest crush: Cecil Aldano Moore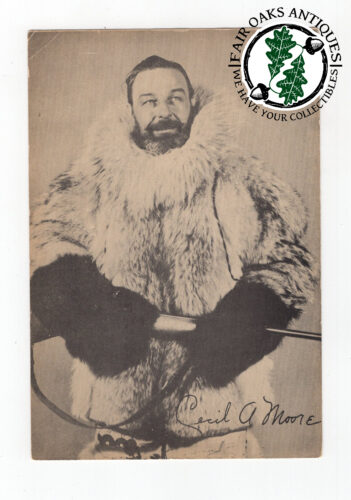 More than just a handsome big bear of a man in an impressive fur parka, Cecil A. Moore, aka Mush Moore, was most known for his sensational 6000-mile trek by dog-sled across the US.
He left Fairbanks, Alaska on November 14, 1949, and arrived on April 4, 1951 in Lewiston, Maine (where Moore was from *).
Moore used a sled custom-built and donated by the Flexible Flyer sled company. (The sled had wheels that could be installed when it was necessary to traverse snowless trails or roads.)
The parka Moore wore was worth thousands of dollars; it was made by an Eskimo woman, the finest fur maker in Alaska.
But it was still a rough trip…
Five days in, members of the U.S. Army in Alaska came to look at the sensational dog team ad musher. "The temperature was 55 below zero that day and the officers and GIs marveled that the hardy Moore could survive alone in that frozen waste."
Traveling roughly 35 miles per day, Mush Moore & his dogs crossed five mountain ranges, 81 lakes, and 129 rivers. And that's not including the other treacherous & perilous incidents.
Moore finished the trek with nine of the 12 original huskies he started with. And Mush always gave the dogs all the credit for his remarkable trip which made headlines all across the country as he traveled from coast to coast.
Cecil Aldano Moore also worked as an ironworker in many states as well as Morocco, Iceland, & Africa. He was the lead foreman on the Augusta Memorial Bridge, Augusta, ME, which was the largest bridge in span and height at the time of construction.
Arch Soutar, Lewiston Evening Journal editor, who interviewed Mush often, recalled that Moore was "unusually strong, physically resourceful and an enemy of defeat, engaged in a rough and hazardous profession," adding that Moore "was a man of unexpected inner sensitivity, an outdoor man with a large and almost brilliant vocabulary."
A larger-than-life man. Yet a man largely lost to history.
(I know I shouldn't be surprised; no one lives forever, not even film stars with such dreams of living forever on celluloid.)
This rare vintage dog-sledding and sporting history find is currently available for purchase on Etsy. Contact us with serious inquiries.
Clearly designed for fans who followed the amazing trek & came to see him when he stopped in their towns and cities to take care of his dogs, this promotional piece has Cecil A. Moore's signature printed along the photograph on the front. However, the real Mush Moore signature is inked on back.
This piece of ephemera is akin to the thin cardboard of Mutoscope and old Hollywood movie promo cards. It measures 4 x 6 inches.
* Funds raised from this marvelous event created the Cecil A. Moore Fund for Underprivileged Children at the Healy Asylum in Lewiston (Healy Asylum was built in 1893 as an orphanage for boys, a role it served until about 1970. Now the building is called Healy Terrace; it's used for affordable senior housing.
PS The podcast will resume soon! (As soon as I can refrain from so many rabbit holes!)