Given the current situation, the dreaded coronavirus, we've seen an explosion in DIY and crafting — including a throw-back to Victorian hobbies, such as scrapbooking.
We're no different; we've been putting in a lot more hours in the studio – and not just for custom pieces, but been listing items in our handmade Etsy shop, LunaTiqueBazaar, too.
And we've been keeping busy with our crafty-DIY supply shop, KindnessOfStrangers, including restocking with new old stock embroidery kits featuring kitsch-tastic wishing-wells, owls, & mushroom designs!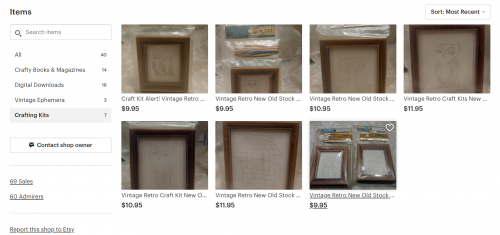 But I, the wifey, came here to blog today to share some images of a sweet old scrapbook we once had in our possession. It was a book compiled by a woman who clearly had spent a long time in 1955 recovering from a hip injury.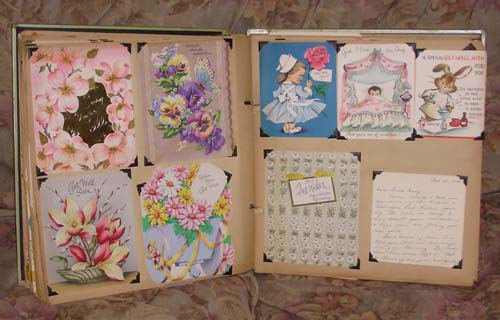 Along with the kitschy old "get well" greeting cards, and an odd note from well-wisher about her icky toe (see below – if you wish!!), the maker of the book had created delightful drawings, including this "stepping stones to recovery" one.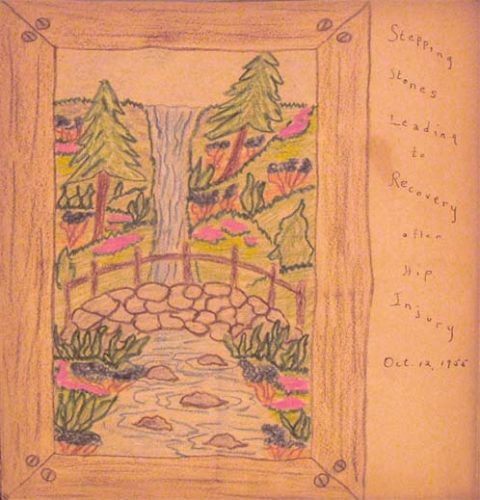 Note that this vintage scrapbook page below combines drawing or coloring with glued in images – charming & so much like today's junk journals, right?!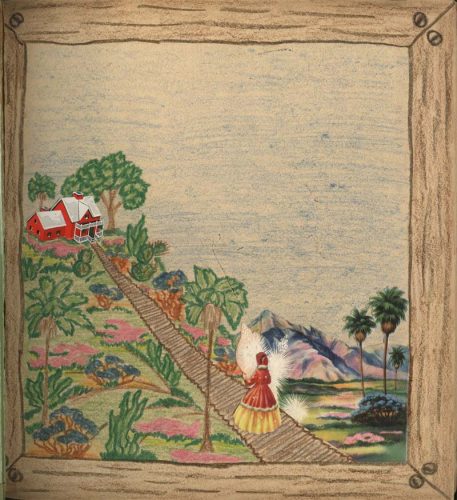 It's no wonder so many people today have joined in the junk journal craze!
For those who are not familiar with the phrase "junk journal" – it's a handmade book, usually made & embellished with found & vintage items, the pages of which you fill with writings, artworks, clippings, doodles, stickers – whatever you wish! Rather combining the best of scrapbooks, diaries, & art journals. So many creative options!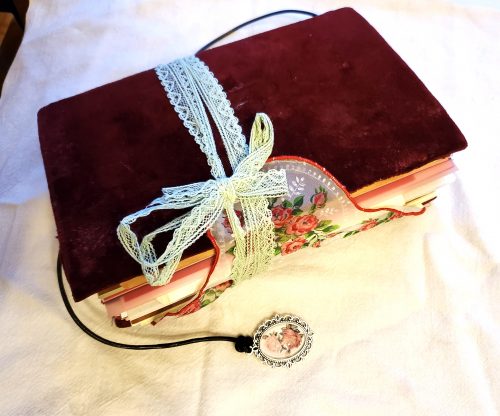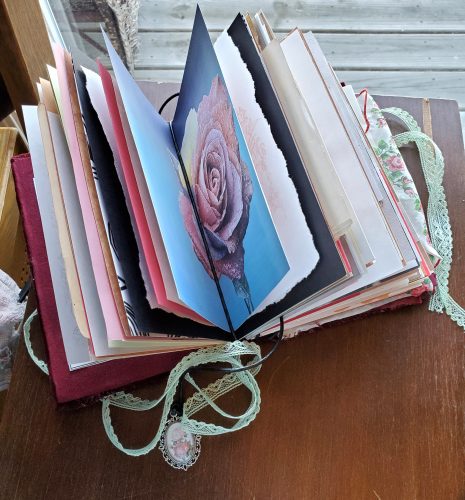 (I've also written a bit more about junk journals over at The FARM's blog – there's a video too!)
The junk journals I sell are often called "naked" because they are created with plenty of blank pages to fill in. As you can see in this video I made. (I am so much better at making journals than videos lol)
Because so many of my extended family members are unable to see one another now (unless it's on Zoom or something), I have spent most of April making nearly a dozen junk journals & mailing them out as gifts. In fact, we've often shown-off some of our junk journal pages in Zoom chats!
The journals were so well received, that I've spent the past few weeks taking custom orders for handmade junk journals their friends! Proof that everyone loves – & needs – a creative outlet.
Art is good for the soul.
Like Kevin Smith says,
Only someone who doesn't understand art tells an artist their art somehow failed. How the fuck can art fail? Art can't be graded, because it's going to mean something different to everyone. You can't apply a mathematical absolute to art because there is no one formula for self-expression.

It's a quote I put into each one of the handmade junk journals I made for family & friends the past few weeks – hopefully, they find it as inspiring as I do!
For those interested… The icky toe news!