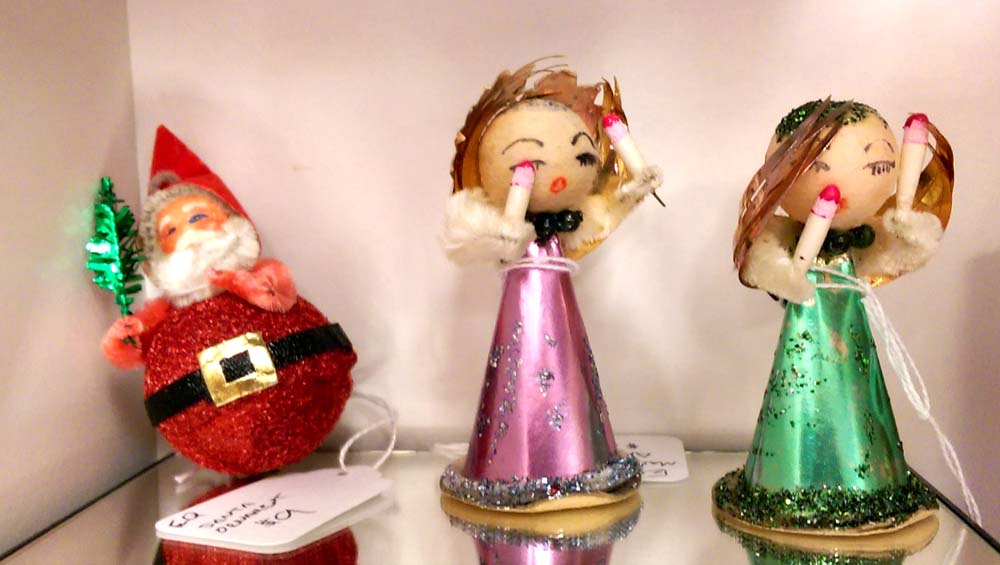 We've been trying to keep our space at Exit 55 Antiques (Fergus Falls, MN) full of Christmas items — but they are selling so fast! Yes, the vintage reindeer are practically flying out of the shop, but we do have a pair of the vintage or retro plush reindeer stuffed with sawdust.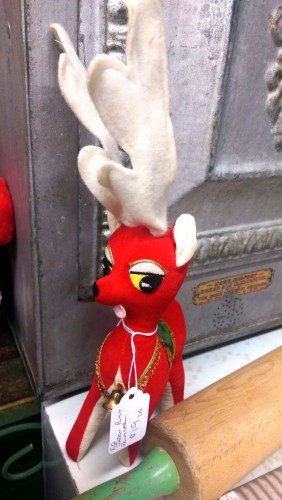 And there are a few flocked reindeer ornaments, hiding among the other vintage ornaments. Many of them are made in Japan kitschy pieces. (Sorry, the elf has sold already too. Gotta act fast on this stuff!)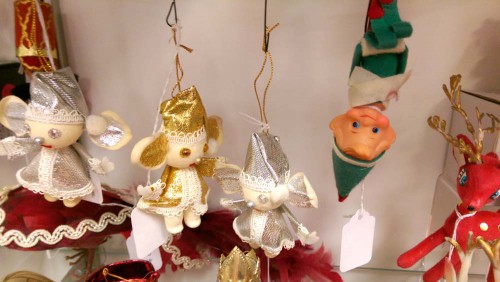 Speaking of kitschy made in Japan Christmas ornaments, how fabulous are these made from paper & pipe-cleaners? And not just any pipe-cleaners, many are made with chenille pipecleaners!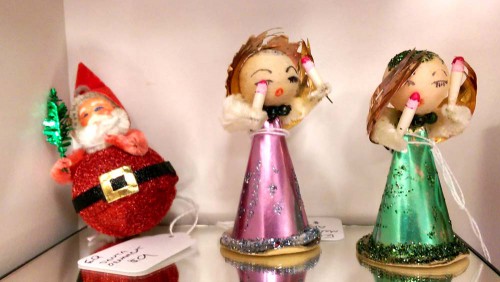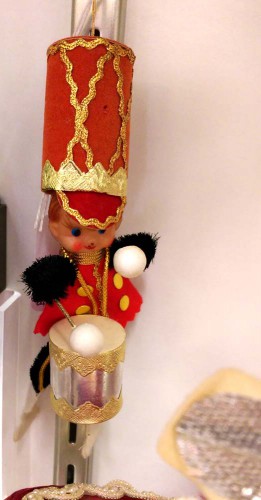 If you love the Christmas kitsch, you might love these Three Wise Men ornaments. (Hubby is not a fan or I would keep them!)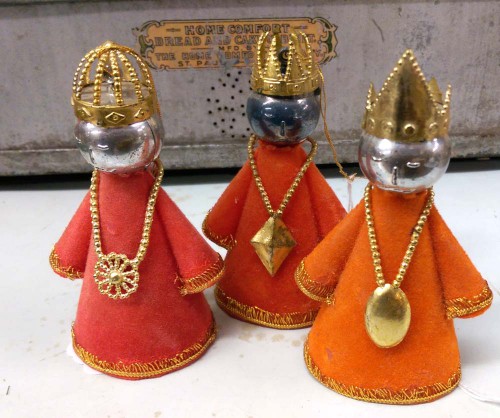 Not everything is an ornament. Check out this fabulous pair of vintage salt and pepper shakers. Don't these angles look like Fisher Price people? While their heads and wings are plastic, the shakers themselves are glass.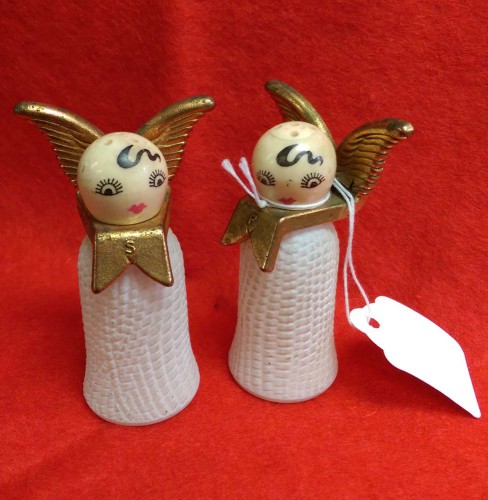 Speaking of things hubby is not a fan of… How about this large vintage handmade caroler? I love her turquoise, wide-wale corduroy coat trimmed in white "fur"! (Hubby is just not a fan of 60s' kitsch like I am. *sigh*)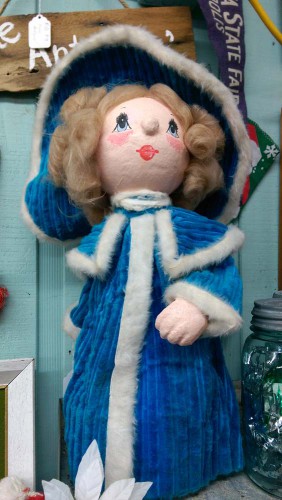 Here's a trio of mid-century modern felt carolers — just like this single singer in our Etsy shop! (See what's left of our Christmas items at Etsy!)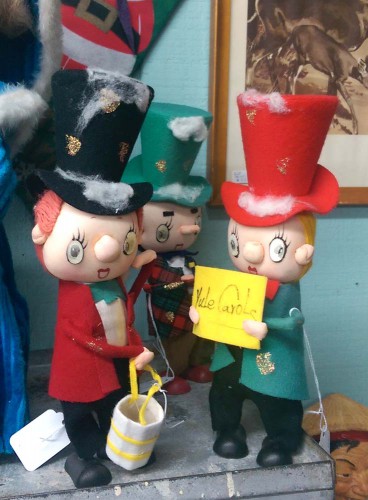 Our vintage rubber-faced or masked Santa sold just days after we brought it in — but don't worry! We've taken some photos and made Santa available on everything from postage stamps and pillows to cards and mugs. I am especially fond of the napkins that look like a Polaroid photo of Mr. Claus. …My sister says I am creepy!)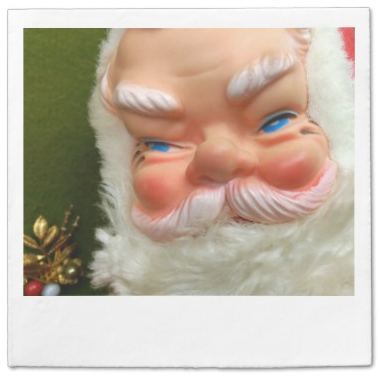 And we have more vintage masked Santas too!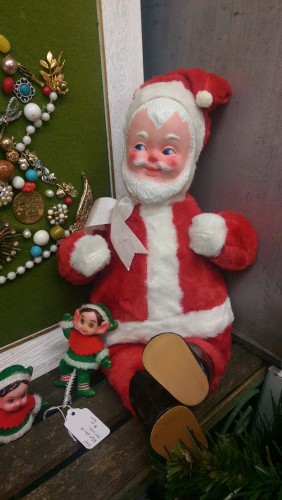 This one is especially great. Not only does he hold a bottle brush tree, but when you plug him in, the light in Santa Claus' hand lights up!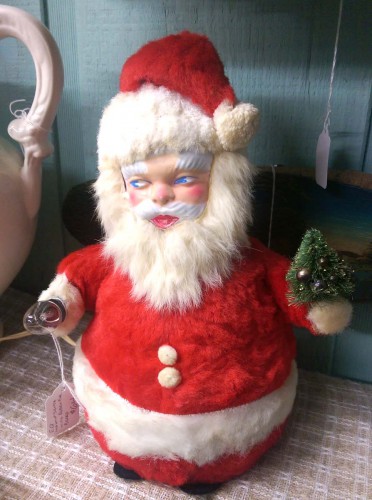 Not everything is kitschy, however. Look at this antique cast iron Christmas tree stand!
Hubby and I work at the shop on Sunday (December 7th). Who knows what we will bring in then? Stop in & see! If you can't make it, keep an eye on our Facebook page for photographic updates. And if you see something you want to buy, let us know & we can make arrangements to ship it to you.
PS The shop's official Facebook page is Pasttime Collectibles & Antiques.